Weave
Weave is a business integration framework for rapidly combining disparate information systems in an easy to use environment. It is based on open systems technology and is independent from vendor-specific technology.

Weave is built using the Java platform so it can be installed on a variety of hardware and operating systems such as Windows, Linux and Unix.
Weave contains an Integration Engine that allows rapid unification of disparate data across multiple enterprise systems.
Weave provides enterprise searching capabilities using criteria from any of the integrated systems.
The system's sophisticated reporting capabilities allow reports with data from multiple sources such as databases and web services.
The default Weave client does not require installation on the desktop. As a lightweight HTML and JavaScript browser, it does not need plugins to be installed and also avoids the need for 'popups' to be enabled.
There is no limit on the number of client configurations that a site can create, focusing the interface on specific user's needs. Each configured client controls access to reports, data, functionality, etc. For example, a simple application could be hosted via anonymous access, and a set of protected client interfaces can be enabled for more sensitive data using the same secure Weave instance.
Weave is a multi award winning solution. See our accolades here.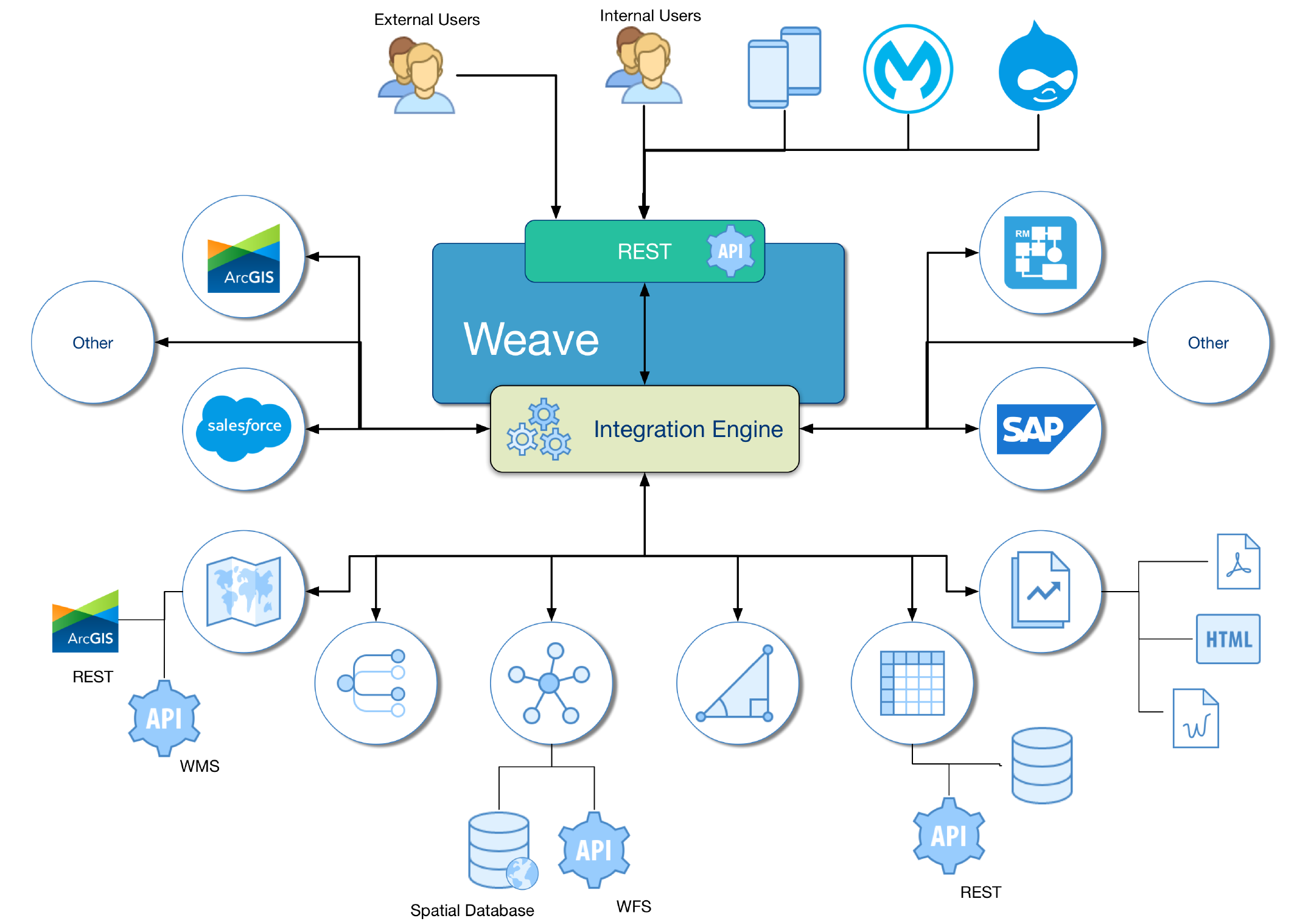 Weave Integration
Investment over 15 years has yielded well-developed application integration capabilities featuring a collection of Enterprise Application Adapter assets to render automated and extensible cross IT systems connectivity.
Weave Capabilities
Weave is a functionally rich solution with a mature set of capabilities to allow the development and use of spatially enabled enterprise solutions. 
Weave Flexibility
Weave is flexible enough to adapt to any industry:
Banking and Finance
Insurance
Health
Energy
Transport
Agriculture
Utilities
Water Services
Communications
Built Infrastructure
Defence
Education
Government