Weave
Weave is a business integration framework for rapidly combining disparate information systems in an easy to use environment. It is based on Open Systems technology and is independent from vendor-specific technology and proprietary Application Programming Interfaces (APIs).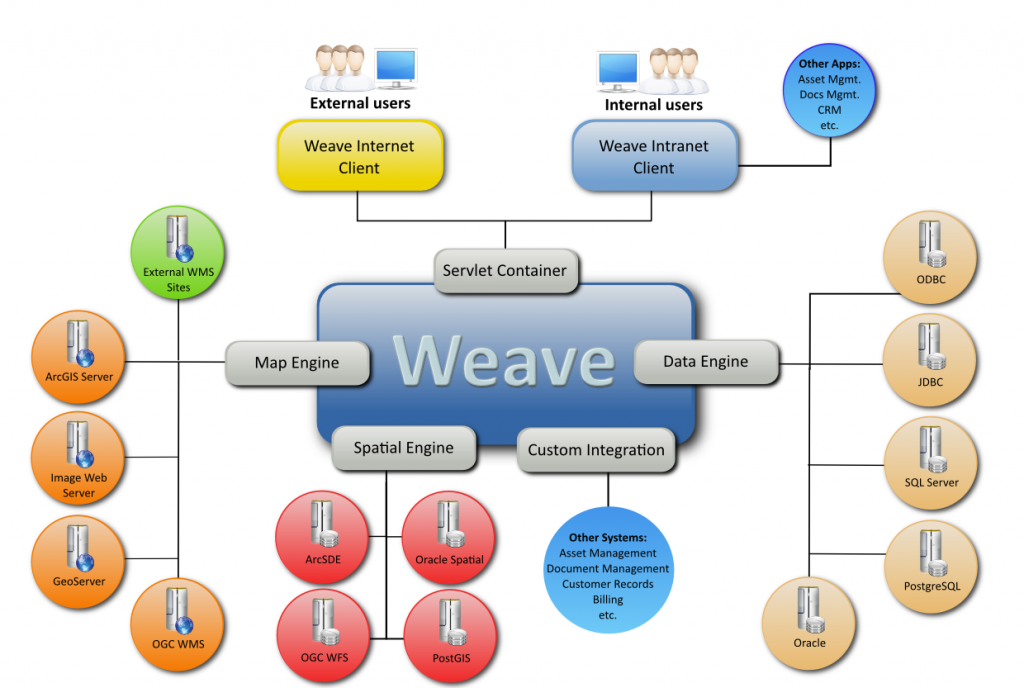 Weave is built using the Java platform so it can be installed on a variety of hardware and operating systems such as Windows, Linux and Unix.
Weave contains three Engines that allow rapid integration of disparate data.
The system's sophisticated reporting capabilities allow reports with data from multiple sources such as databases and web services. The reports may contain lists, charts, tables, crosstabs, maps and more. Compound reports such as multiple reports consolidated into a single document are also supported.
Reports can present data sorted, summarised, filtered and grouped to fit the user's needs.
The default Weave client does not require installation on the client desktop. It is a lightweight HTML and JavaScript browser client that does not need vendor specific plugins to be installed and also avoids the need for 'popups' to be enabled.
There is no limit on the number of clients that a site can create. Each configured client has its own URL and login credentials (if required) so as to control access to Reports, Data, Mapping and Spatial Engines. For example, a simple mapping application could be hosted via anonymous access, and a protected site which is only accessible via a login, can be enabled for more sensitive data using the same Weave instance. The same instance of Weave will also handle multiple internal clients with each referencing different Mapping Engines and containing only data intended to be seen by internal staff.
Weave is a multi award winning solution. See our accolades here.
Openness

Use of open, non-proprietary APIs and SDKs and support for multiple database and spatial engines.

Integration of non-spatial data

Powerful data integration from multiple JDBC and ODBC traditional data sources.

Integration of spatial data

Powerful data integration from multiple spatial data sources such as Oracle Spatial, ArcSDE, Shapefiles, PostGIS, WFS, GML and others.

Integration of map services

Work simultaneously with many map services such as WMS, ArcIMS, ArcGIS Server, MapXtreme, Image Web Server, MapServer and others.

Integration of third party apps and services

Client and serverside application processes can be integrated into predefined workflows, minimising the learning required by users of those processes. Weave has a range of Application Integration Modules that enable immediate integration with a range of third party products, and Cohga specialises in the rapid development of custom modules to integrate other applications.

User Insulation

The complexity of data and processes is hidden from the end users. Simple configuration – Minimise/consolidate system configuration information.
Centralised

The configuration is controlled by the site administrator from a single location.

Web Browser Based

Weave has browser-based clients using JavaScript and HTML. No browser plugins are required.

Customisable, Expandable

Weave can be customised and expanded by third parties as it is based on standard IT technologies.

Minimal footprint

Minimal requirements to integrate data sources (i.e. no forced schemas).

Scalable

A multi-tier architecture is supported.

Security

Role based access control to interfaces, data, and reports.
With the use of WeaveLink, a technology developed by Cohga, a Weave browser can be controlled from a Windows application and vice-versa.
WeaveLink underpins several extension modules of the Weave family of products called Application Integration Modules (AIM). These modules allow the Weave browser to invoke a third party application with parameters (usually the selected entities) and also allow the third party desktop application to start or invoke a Weave browser with a set of entities as the current selection.
Application Integration modules enable functions according to the capabilities of the third party application's API.
Proclaim Application Integration Module
The Weave/ProClaim integration module provides a two way link between Weave and the Property & Rating product from Technology 1 (formerly known as ProClaim). The module enables ProClaim to call on the Weave interface to display information and conversely, Weave can call on ProClaim to display information.
Pathway Application Integration Module
The Weave/Pathway integration module provides a two way link between Weave and Pathway, the product for local government administration produced by Infor. Pathway can call on Weave to display information and Weave can call on Pathway to display information.
Confirm Application Integration Module
The current Weave/Confirm integration module supports a two way link between Weave and Confirm, the asset management system from Pitney Bowes. With this module, Confirm can send the current set of assets to the Weave browser for display (and for the reselection of assets based on other criteria) and Weave can send the current set of assets for display in Confirm. In addition Weave can have them saved as a named selection in Confirm or have Confirm display its asset selection screen.
AssetMaster Application Integration Module
The current Weave/AssetMaster integration module supports a two way link between Weave and AssetMaster, the asset management system from InfoMaster. AssetMaster can send the current set of assets to Weave for display and Weave can send the current set of assets for display in AssetMaster. Currently Internet Explorer is the only browser supported for this type of integration.
The link supports the following functions:
Weave to AssetMaster:
Locate Asset
Locate Catalogue
Link to Asset/Catalogue
Create Work Order
Add to Work Order
Locate Work Order
Return to AssetMaster
AssetMaster to Weave:
Show Weave
View Selected Assets in Weave
Authority Application Integration Module
The current Weave/Authority integration module supports a two way link between Weave and Authority, the local government administration product suite from Civica. That is Authority can send the current set of assets to Weave for display and Weave can send the current set of assets for display in Authority.
The link supports the following functions:
Weave to Authority:
Display Properties in Authority
Neighbourhood notifications (mail merge)
Bulk Property Correspondence (mail merge)
Property Bulk Update
Authority to Weave:
Display Properties in Weave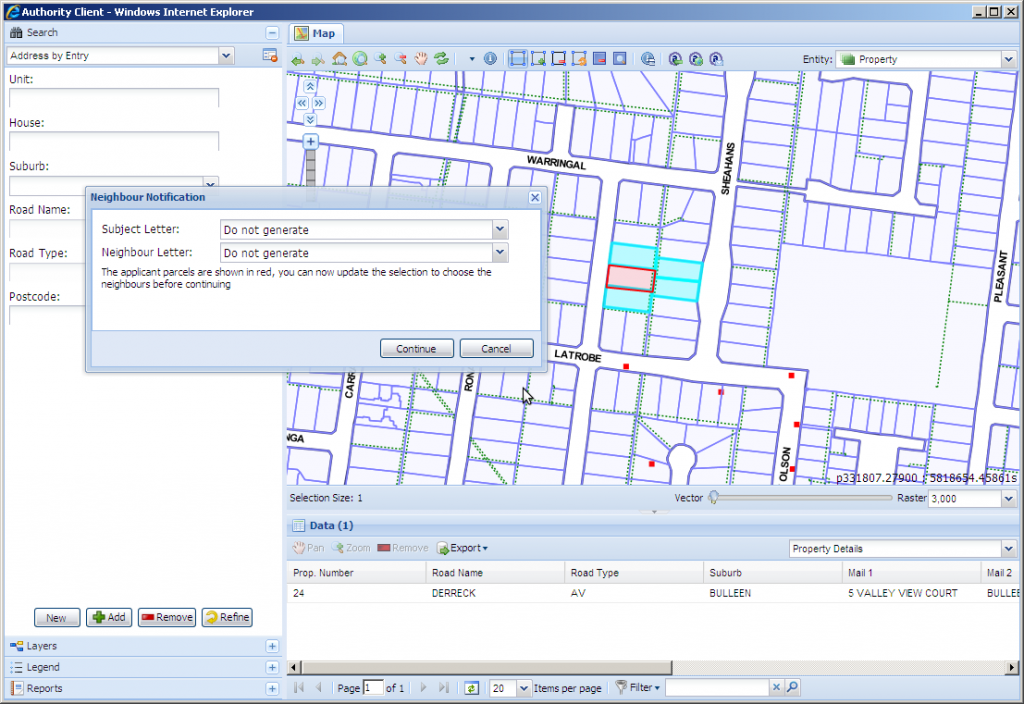 Custom Application Integration Modules
Cohga can quickly and efficiently create a custom application integration module to suit any particular application in your organisation. The Cohga developers have extensive experience in this field and have perfected a method to deliver high quality application-level integration with a quick turnaround.
For more information on our products please Contact Us
The Weave data editing extension enables end users to add, edit and delete records (entities) in their corporate spatial system, including snapping to existing features.
This capability is ideal for staff in the field, where a browser-based interface with focused functionality can increase productivity while saving the costs of a fully-fledged spatial application.
The main features of the Weave Data Edit extension are:
Simple to setup for basic operations
Configure the ID, label and entity parameters and Weave will do the rest.
Customisable for advanced operations
Refine geometry settings and input parameters, including the provision of pre-defined lists of values for input.
Support for editing entities with multiple spatial layers
A single entity that is composed of separate point, line and/or polygon tables is transparently handled by Weave.
Creation and update of entities in the client can be initiated from URL parameters
The Weave client can be started with parameters in the URL to immediately begin the editing process for a specific entity for the user.
Auditing of edit operations
Custom auditing can be setup to write new log records to a database table for each edit operation performed by a user.
Snapping of geometry
Configurable snapping is available to help with drawing geometry.
I18n support
Support for I18n internationalisation allows the translation of all the text and labels in the editing components to other languages. English users can employ this facility to customise the default text.
'Identity' columns
Specify values in an attribute for a new record based on incrementing the previous highest value of the column, or that the value will be automatically generated by the underlying database system.
Read-only columns
Configure a column so that an attribute can be displayed but not changed (readonly), can only be changed when the entity is created (readonlyoncreate) or can only be changed when an entity is updated (readonlyonupdate).
Hidden columns
Configure attributes to be hidden from the user but still to be written when an edit is performed, using either a fixed value or one of a number of supported functions.
Formula columns
Specify a number of in-built formulas as the value for a column, including values like userid(), datetime(), entity(), area() and length(). These can be used for both the spatial and audit tables.
Restrictions on the number and types of geometry
Geometry input can be constrained to indicate a minimum and maximum number of geometries that can be entered when creating an entity and the types of geometries can be specified.
Customisation of client view
The input panel can be customised through the configuration. For example, you can control if text and/or icons show in the buttons, which buttons are displayed (hiding buttons) and the locations of some of the buttons.
For more information on our products Contact Us