Weave
Weave is a business integration framework for rapidly combining disparate information systems in an easy to use environment. It is based on Open Systems technology and is independent from vendor-specific technology and proprietary Application Programming Interfaces (APIs).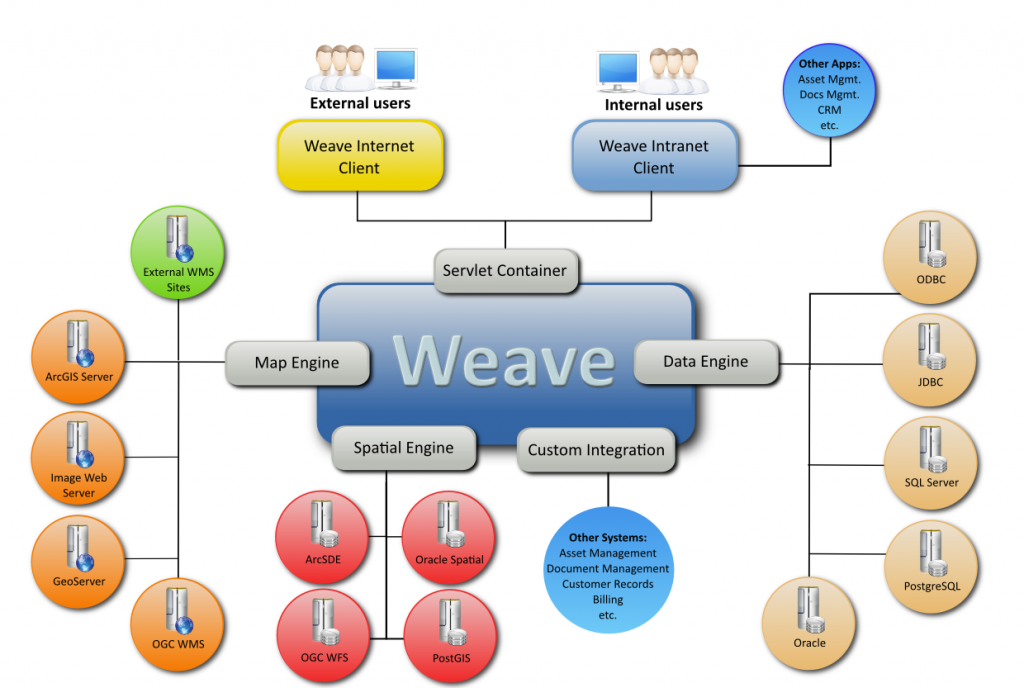 Weave is built using the Java platform so it can be installed on a variety of hardware and operating systems such as Windows, Linux and Unix.
Weave contains three Engines that allow rapid integration of disparate data.
The system's sophisticated reporting capabilities allow reports with data from multiple sources such as databases and web services. The reports may contain lists, charts, tables, crosstabs, maps and more. Compound reports such as multiple reports consolidated into a single document are also supported.
Reports can present data sorted, summarised, filtered and grouped to fit the user's needs.
The default Weave client does not require installation on the client desktop. It is a lightweight HTML and JavaScript browser client that does not need vendor specific plugins to be installed and also avoids the need for 'popups' to be enabled.
There is no limit on the number of clients that a site can create. Each configured client has its own URL and login credentials (if required) so as to control access to Reports, Data, Mapping and Spatial Engines. For example, a simple mapping application could be hosted via anonymous access, and a protected site which is only accessible via a login, can be enabled for more sensitive data using the same Weave instance. The same instance of Weave will also handle multiple internal clients with each referencing different Mapping Engines and containing only data intended to be seen by internal staff.
Weave is a multi award winning solution. See our accolades here.
Openness

Use of open, non-proprietary APIs and SDKs and support for multiple database and spatial engines.

Integration of non-spatial data

Powerful data integration from multiple JDBC and ODBC traditional data sources.

Integration of spatial data

Powerful data integration from multiple spatial data sources such as Oracle Spatial, ArcSDE, Shapefiles, PostGIS, WFS, GML and others.

Integration of map services

Work simultaneously with many map services such as WMS, ArcIMS, ArcGIS Server, MapXtreme, Image Web Server, MapServer and others.

Integration of third party apps and services

Client and serverside application processes can be integrated into predefined workflows, minimising the learning required by users of those processes. Weave has a range of Application Integration Modules that enable immediate integration with a range of third party products, and Cohga specialises in the rapid development of custom modules to integrate other applications.

User Insulation

The complexity of data and processes is hidden from the end users. Simple configuration – Minimise/consolidate system configuration information.
Centralised

The configuration is controlled by the site administrator from a single location.

Web Browser Based

Weave has browser-based clients using JavaScript and HTML. No browser plugins are required.

Customisable, Expandable

Weave can be customised and expanded by third parties as it is based on standard IT technologies.

Minimal footprint

Minimal requirements to integrate data sources (i.e. no forced schemas).

Scalable

A multi-tier architecture is supported.

Security

Role based access control to interfaces, data, and reports.